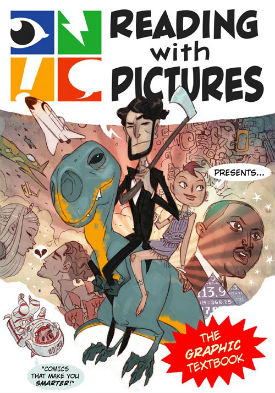 With a solid 37 hours left to go right now, it looks like Reading with Pictures' Kickstarter campaign for a new book of educational comics can be considered a success. I interviewed Josh Elder for Education Dive a few days ago, and he was optimistic. It would seem that his positive thinking was appropriate, seeing as how this project has now raised more than $67,000.
RwP wants to do some big things in the education world, and I'm anxious to see what kind of reception this book gets when teachers start deploying it in the classroom.
It should also be interesting to see if any other textbook projects follow RwP to Kickstarter to try this model out. Just getting a textbook approved by schools is a high enough hurdle in and of itself; depending on how things go, this grassroots approach, like e-textbooks in general, could really open up some doors for new and innovative products.