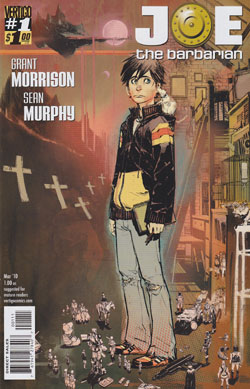 Well, one issue into Grant Morrison and Sean Murphy's Joe the Barbarian #1 I neither thought it was as deeply constructed as David Brothers over at Comics Alliance concluded or as cataclysmically phoned in as MarkAndrew over at CBR articulated. Instead, I think I'm somewhere in the middle and of the mind that the story comes off inspired, if overly derivative for Morrison tale, but the artwork flows like a cool fall breeze for the most part, and I didn't feel like Murphy held it back at all whatsoever.
The meat of this new series is fundamentally a contemporary Indian in the Cupboard meets The Chronicles of Narnia. And you know what? I think that's a fine thing to aspire to and succeed at. Granted, I don't know for sure that the story is going to wind up being about his adventures in a fantasy land ruled by the action figures he plays with in an escapist endeavor that ends up pulling him into an epic quest of adventure to contrast with his real-world problems and mundane day-to-day life at home where he is the victim of bullying rather than the champion of an endangered world of childhood imagination. That's definitely the direction issue #1 has set off in, though, and I'm not sure I've got the wallet endurance to sit through this and take a chance on being wrong.
As I said, none of this is to take away from Murphy's lavish environment detailing, but when it comes down to it all of the toys Joe plays with are DC heroes or copycat bootlegs of Halo, Voltron or Hasbro products. I mean, would it have been too much work to give him something original that had some personality and diverged from expectation a bit? Having those recognizable designs in the background are great for context, but I'd expect something more of a curve ball from Morrison. I may even glance through issue #2 when I see it in the store to find out if there are any surprises, but I'm just not feeling this book at a subscription-inducing level of intrigue right out of the gate.