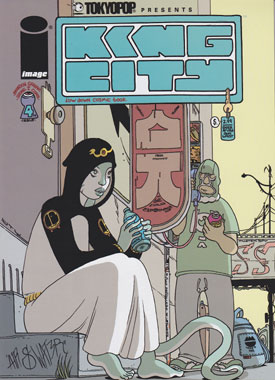 I actually had to sit on this one for a couple of days to digest as the final scene is easily the most disturbing sequence that King City has thrown at me thus far. From the beginning of Pete's storyline it was implied that his neck-horned employers had nefarious plans for his sea monkey girlpal, but that comes to an extremely unsettling conclusion here.
It's strongly suggested that there is some sort of prostitution ring being run, but what you get as an explanation is an abstract page of violence that would have been at home in Eraserhead if H.R. Giger had done the art direction. You know exactly what to feel watching the events unfold, but you don't know precisely what you're reacting to, which is a bold place to take the reader, and it's pulled off quite well. You then get a Judas receiving his silver type of moment that follows, and the closing page is definitely the strongest yet.
Brandon Graham has a unique strategy going with King City, where page to page he keeps you visually interested in inventive designs while subtly establishing the plot devices that get foregrounded later on. It's a great way to keep the reader invested, and it's had me hooked for four engaging comics.