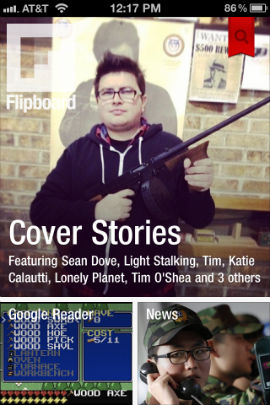 2011 was an exciting year for consumer tech developments. As Apple continued to devour market share in the PC market, Microsoft got behind their Kinect controller and got together with Nokia to give the Windows Phone platform a bigger push. I don't think that you'll find too many critics willing claim that Microsoft has been ahead of the game in the mobile or desktop OS markets over the last few years, but some notable apps and news stories have percolated recently that offer a little perspective on the battlegrounds and cross-pollinations that will be worth watching in 2012.
• First is the insurgence of Windows Phone-looking design concepts that have been making their way onto the iPhone. Like Bing vs. Google, Windows Phone interface designs have differentiated themselves from traditional iPhone dev schools of design. When I think of Windows Phone screens, I think of tight grids with big, sharp-edged boxes and icons that often just sink into the nav bar, rather that bubbling up on additional shapes. Both the Flipboard and Xbox Live apps have introduced such things to my daily mobile experiences recently, and I think that both work marvelously overall.
• The television market is another place that's going to be fun to observe in 2012. I looked at a Google TV last year at about this time, and I've been testing out an Apple TV over the last couple of weeks. The Wall Street Journal reports that voice commands will likely be a part of the next generation of Apple TVs. Apple already has Siri out in the wild on the iPhone 4S, which no doubt means that they have been gathering lots more user data to funnel into a better voice interface for home entertainment systems. Microsoft began experimenting with a limited set of voice commands when it launched Kinect, so both companies are obviously looking at similar issues and looking for ways to distinguish themselves.
The Apple TV, from what I've experienced thus far, differentiates itself by emphasizing AirPlay, the ability to stream content directly from iPhones and iPads. Additionally, Apple seems to have been thinking about things from a Nintendo Wii U perspective, allowing developers to implement two-screen gaming experiences.
I think the Google TV largely failed out of the gate due to some poorly executed (and in many cases, un-executed) partnerships, but I'm sure it will remain a player to some extent as well. I'm looking forward to seeing what other trends and developments appear in 2012. Although, I won't lie to you; in the voice-recognition race, I care a great deal more about who will finally bring me some software that does a halfway decent job of transcribing interviews.