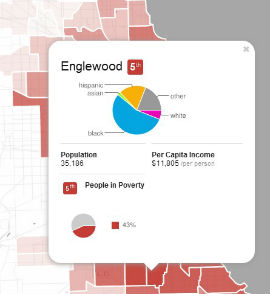 As I mentioned a few weeks ago, my team at Medill recently completed our project with The Chicago Reporter, developing digital solutions and recommending business strategies to help the magazine be more effective online.
It was a real pleasure to work on. We conducted user research, talked to journalists at news sites and mapped out a thick set of ideas that we believe can help strengthen one of Chicago's best investigative news sources.
There are three great places you can visit now to learn about the work we did, and they are:
• Medill's website, where you can read an interview with me about our research and final proposals.
• Our Disparity Map, which is an interactive tool we developed to display race, education, income and housing information about Chicago communities.
• And of course, a live recording of our final presentation at the McCormick Tribune Center, where you can see everything explained. It's about an hour and a half long, though, so find a comfortable chair.