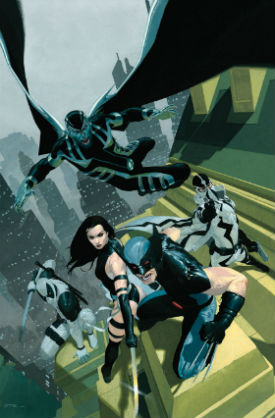 Since Christmas, I've taken a 24-hour Amtrak ride out to Washington, D.C., upped my freelance output and generally been on a wild ride (which has even included red pandas!). Here are a few other items of importance.
• It has been somewhat of an annual gig for me the last few years to contribute to CBR's "Top 100 Comics" lists. Kiel Phegley always does an amazing job wrangling all the votes and write-ups together for this feature, and he came through once again. For 2011, you'll find me making my cases for Michael Kupperman's Mark Twain "autobiography," Chris Ware's "Touch Sensitive," "Morning Glories" and "Detective Comics" and "Uncanny X-Force" in the final ten.
• Tom Spurgeon has a great interview up at The Comics Reporter with my ComicsAlliance editor Laura Hudson.
• Google TV turned out to be quite a flop out of the gate last year, but Google is getting ready for a second go at it at CES. As Staci D. Kramer at paidContent points out, there's been some partnership shuffling.
• As a regular reader of The Verge and a former daily collaborator with Russ Frushtick at MTV Multiplayer, I'm really excited to see what Vox Media has in store for games journalism.
• I'm glad Rick Marshall is continuing to post sketches from his Hunter S. Thompson collection.