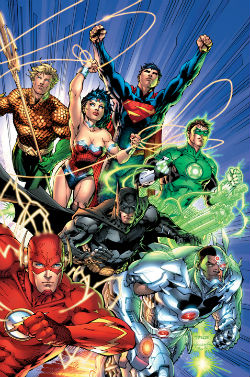 As of tomorrow, DC Comics will be past the point of no return. In much the same way that their chief competitor Marvel rebooted its characters in 1996's "Heroes Reborn" and then again in the Ultimate titles, DC will be scrapping everything and rebuilding their world from the ground up. Personally, outside of of Grant Morrison's Batman work, Jeff Lemire's Superboy, Paul Cornell's DCU contributions and an occasional Gail Simone title, I have been pretty reluctant to pick up most DC titles ever since their entire rack got enveloped by "Brightest Day." And even though my weekly pamphlet comics budget is a sliver of what it once was (both due to attending grad school this year and diversified comics interests in general), I'm going to pick up Justice League #1 and a handful of their new titles to see where things are going.
DC knows that their readership has been shrinking and that something needs to be done, but even The New York Times understands that their move is a gamble. DC has chosen wisely making their pizza-toting Chief Creative Officer Geoff Johns and Co-Publisher Jim Lee the faces and ambassadors of the overhaul. Their leadership should keep longtime readers interested out of the gate. Still, when Marvel launched Ultimate Spider-Man and The Ultimates, they still had Amazing Spider-Man and The Avengers continuing their multi-decade runs on the side.
DC has punched the reboot button on continuity in various ways before, via "Crisis on Infinite Earths," "Infinite Crisis" and other dimensional-realigning tales. As a reader, one of the more frustrating repercussions of this tendency has been origin stories and histories that are constantly in flux. Marvel, for all of their Wolverine, Spider-Man and Ultimate Universe books, has at least done a traditionally fine job of maintaining their timelines. Is this going to be the last time we see DC re-commit to continuity? I tend to think not, but I remain hopeful that they'll at least keep a few more batons in play this time around.
Then there's DC's biggest play, which is offering synchronized date-and-date digital/paper releases. Archie Comics and various independent titles have made this a default plan already, but this is one of the first areas of digital where DC has decided to dive in head first ahead of Marvel.
Marvel already has an online library available to paying subscribers and numerous day-and-date experiments to leverage for data and publishing strategy purposes. They've also got a fleet of budding franchises in theaters (and DC has one in its third act with a rebooted fumble on the way). If DC manages to spark a sea change for the industry tomorrow, they will surprise a lot of people and could ignite a welcome and exciting new chapter in their age-old face-off against the House of Ideas.
I want better competition (especially on the digital front to help drive new-issue prices down) and better comics, so ultimately, I have to hope they bring in some big and deserved numbers in the coming weeks.