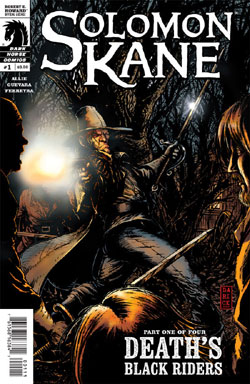 I'm sure this will sound foreign to a lot of readers, but Solomon Kane: Death's Black Riders #1 read like the opening half hour of a GURPS quest, which is to say the story style will be readily digestible and recognizable to the seasoned fantasy reader. It's a dark and violent first issue for this four-issue miniseries by Scott Allie and Mario Guevara, but it's a serviceable opening curtain for its tale.
There's a lot of non-English dialog spoken in this book, and I couldn't help but notice that it gets delivered in three different formats. On the opening page you have bracketed real-time translation. On another occasion you get straight French for the exclamation "Mon dieu!" Then, on another page it gets set up as parallel Italian and narrative box commentary that translates what's just been said. Meanwhile, there's some German thrown in, and perhaps another language I'm missing. Anyhow, all of these tongues get tossed around and tangled in the commotion, and while they don't necessarily obstruct the reading experience, an editorial note would have preempted some page flip-backs toward the middle and end.
Juan Ferreyra's coloring on the opening spread is the perfect punctuation mark to open up the action with, and there are a couple of pages later on that lose something to the muted purple and scarlet choices without anything to really pop out, but those emphasize the ebbing and flowing of the fighting and gashing page to page. Design-wise, there's nothing incredibly powerful or memorable that jumps out of issue #1 — the demons have your standard unholy amalgamated forms (sort of Cloverfield-ish with ominously placed mouths).
It's a solid first step into the story, though. As an infrequent Solomon Kane follower who picked this up on a whim at Dark Tower Comics last week, I didn't feel baffled by the world of the series, and I'll likely pick up issue #2.