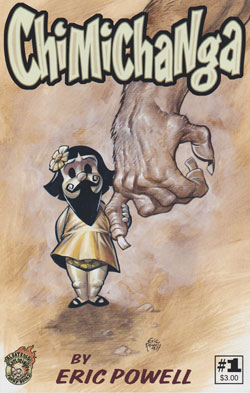 Eric Powell really puts a lot of creators — writers and artists alike — to shame with his ability to keep his work pared down but constantly surprising and effective. The movement and characterizations in Chimichanga #1 had all the energy of a Steamboat Willie-era Disney cartoon and all the horrific nuances of a Mark Ryden painting being sung about in a Tom Waits song.
The story follows a bearded girl as she encounters a witch and a beast in the woods who accompanies her home. Powell's big panels always tell just enough, but hint at deeper depths of macabre that go unmentioned. He's extremely adept at twisting moments from panel to panel and even word balloon to backdrop and vice versa. Elements such as the Mexican food stand and the pharmaceutical plant keep the otherwise outlandish story rooted in a disorientingly grounded world balanced on the premise that normal reality exists outside the forest and the carnival tents. There's a hint of Roald Dahl in that concoction not unlike Fantastic Mr. Fox.
The character development is limited to the girl and the witch, but the designs and supporting cast's humor make nearly every page keep things rolling. Heck, if every issue were as good as this one and it came out weekly, I'd probably buy them.