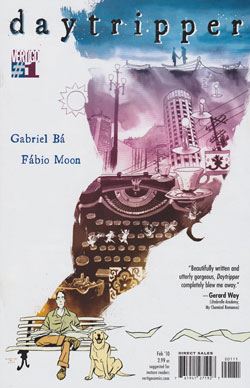 So story true here, I admit to being completely ignorant of this book beyond the title and creators, knowing that based on Gabriel Bá and Fábio Moon's names being on the cover I would need to read it. I just never read past the headlines to find out what it was about. Thus occurred my reading experience.
Daytripper #1 is an enchanting and richly moody first chapter with lots of character micro-vignettes on the periphery and a hollowly presented main character who happens to be an obituary writer. The artwork is subtle and the words are artfully placed. There were extended spans where the art felt like it was just along for the ride and playing an ornamental role for the dialog, but even at its most torpid the illustration is better than 90% of whats on the racks, and it does come through and punctuate the important scenes when it needs to.
I mentioned my perspective coming into this issue because when I finished it I thought I'd just read a self-contained story — and that's a rare mistake to make reading pamphlet comics. I had to go search out some interviews to verify that there are more issues ahead (It's marked "#1" on the cover, but you know, that doesn't always mean a whole lot.) I've read worse short stories in The New Yorker, though, so I don't think my reading suffered as a consequence. It seems Vertigo's sold me on another second issue.