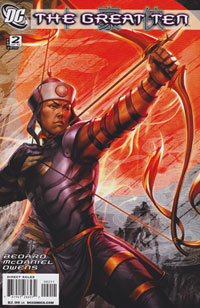 Tony Bedard is really doing his best — whether intentionally or not — to craft DC mini to rival Marvel's Immortal Weapons. The concerns I had at the close of The Great Ten #1 that there's a fine line being walked between caricaturizing the Chinese government and framing it in a way that seriously tackles its post-Cultural Revolution approach to anti-pluralism and Party bureaucracy. Nevertheless, Bedard's storytelling is composed and clever his second issue on the series.
The Great Ten #2 opens with a bare-knuckled synopsis of Mao Zedong's retcon of modern Chinese identity and launches directly into the moment the first issue left off with where the old gods return to confront China's government-controlled "super-functionaries." There are a lot of clever wordings like this involved in the Great Ten world that have really built a compelling sphere within the DC Universe. In this issue more than the last, Bedard really hits home the fact that there are gobs of paperwork to be done at every turn in the government, and it's an effective aside in several places as a tongue-in-cheek gag about China's government.
At its best, this book is channeling the kind of Gaimanian American Gods discussion about old belief systems confronting new ones, and the character designs and succinct names underline those complexities quite eloquently.
The origin stories are also very well used, much as they have been in Immortal Weapons. There are several characters who still haven't been brought into the limelight yet, but with eight issues ahead, Bedard's working at a great pace to carousel them in as needed.