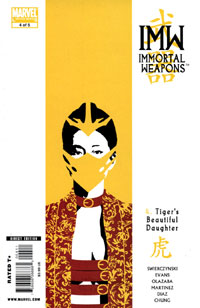 When I start looking back over my pull lists for 2009, this miniseries will be among the first in line for my top five picks. In a beautiful standalone issue, Duane Swierczynski tackles an origin story for Tiger's Beautiful Daughter that resembles a Neil Gaiman Sandman tale more than it does an Iron Fist spin-off.
Overall, Immortal Weapons #4 does a number of things right that just punch the 10-coin boxes all over the place. In addition to being a fascinating coming of age explanation for a minor character that breathes life into her entire world and context of existence, it gets the job done in 20 pages and leaves its lead heroine more interesting that it found her. You really can't ask much more of any issue, save for stylistically sound and complimentary artwork, which Khari Evans provides handily.
It's a little bit 300, a little bit Wonder Woman, and shade Mortal Kombat, but in the end it's true to what Marvel's been building with the Iron Fist wing of its universe, and it's one of the only pamphlet comics in recent memory I immediately read a second time when I was through.
I do have a complaint similar to my gripe with Green Lantern Corps #42, which is that a couple of scenes could have benefit from a more maturely rated bar for blood depiction. The illustration works, as does just overlaying a panel with translucent red, but when a battlefield of warriors is supposed to be ruthlessly defeated, it softens the impact when they all just look like they're out sunbathing. It's odd because there are some blood gushes on adjacent pages, but I feel like it's a compliment if that's the worst problem I had.