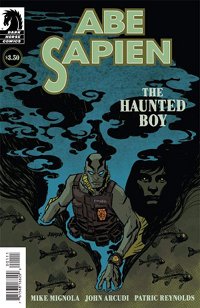 "Well, they can't all be like the burning army of Chien-Chi."
–Professor Bruttenholm
This Abe Sapien one-shot, which came out from Dark Horse last week was remarkably fulfilling on several levels (not surprising, since it's written by Mike Mignola and John Arcudi), even if the suspension of disbelief hoisting the ending comes off as hastily patched together. Luckily, the extended ending, which in other cases might seem superfluous, actually ties things up thematically quite nicely.
Patric Reynolds' artwork immediately pulls the setting for this story apart from the B.P.R.D. minis I'm used to. Rendering Abe Sapien: The Haunted Boy in a more realist style than the typical Mignola-inspired horror look, transplants Abe into the human world, and emphasizes his displacement as an outsider during the case. Essentially, Arcudi frames the book from the beginning as a minor story in the B.P.R.D.'s history, which is an interesting tactic, but ultimately it's about how even the lesser cases in their files provide perspective and research data. And the writers made their case.
The resolution of the case which [*SPOILER*] is a Zippo lighter hitting a bedpost from across a room and producing enough sparks to ignite the demon villain, felt really wedged in, out of nowhere and awkward, though. To the story's credit, if you forget that one page, it's totally worthwhile read though. As far as great Halloween reads out on the racks this year, you can't do much better in one issue than this one.