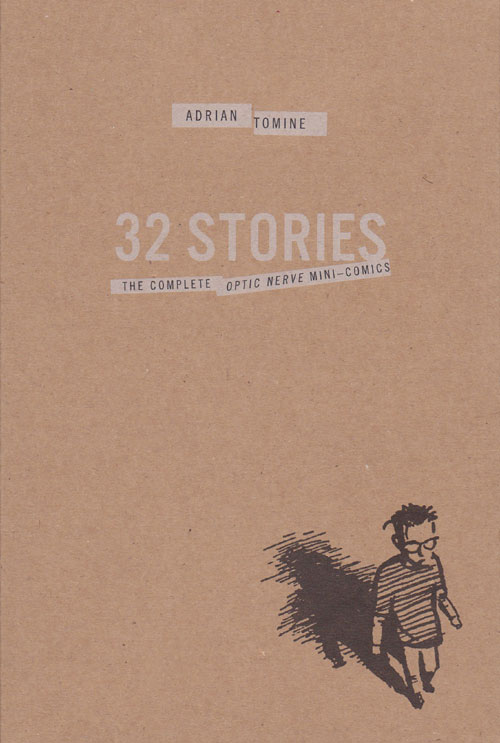 There was a lot of pressure on this collection, seeing as how Adrian Tomine's Optic Nerve and Grant Morrison and Frank Quitely's New X-Men were solely responsible for getting me to read comics again after a half decade hiatus. This deluxe edition from Drawn & Quarterly is a remarkable piece of packaging, too, as it actually reprints Tomine's old minicomics and stores them in a book-shaped box — pretty much an ideal format for reprinting the material.
The old Optic Nerve minicomics contained in this collection are a real mixed bag of art styles compared to Tomine's normalized style that's now seen regularly in New Yorker illustrations. They really give you some perspective on his creative evolution as you watch him swing back and forth from a Dan Clowes-inspired phase into reduced figures that look like they could have been drawn by Scott McCloud, and eventually land firmly into his modern look. Additionally, you'll learn bits and pieces about his biographical trip through creating Optic Nerve, such as his music choices and affection for drinking hot Tang.
The variety of story types is also interesting for anyone who's only read Tomines straight-up short fiction of the latter magazine-sized issues. The Jack Kerouac and Jane Pratt stories particularly stand out for their own reasons — Kerouacs because you can see Tomine's personal attachment to the character of Jack Kerouac, and Pratt's not only because there's biographical trivia about the author in it, but because the mimeographed face that he uses on her is a little bit terrifyingly creepy.
Ultimately, this collection is a narrative sketchbook of strategies and shapes that later became Tomine's longer-form tales, but the guts and sensitivity to the human condition that have always pervaded his work are just as pungent here, if only in smaller doses.