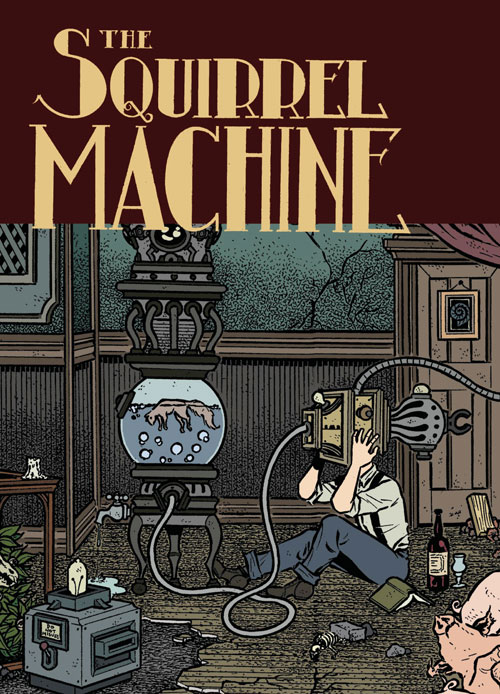 Hans Rickheit has always been an enigmatic authorial figure for me — I fittingly discovered him at MoCCA a few years ago while he was absent from his table, but whoever was manning it facilitated the sale of a couple volumes of his Chrome Fetus minicomics to me. His new graphic novel from Fantagraphics is a drastically more linear and cohesively dialoged story than those volumes, but the same spirit of steampunkish surreal exploration between internal and external relationships still pervades.
In its simplest terms, the Squirrel Machine narrative is the tale of two brothers, Edmund and William, and their quest to master an organ assembled from pig heads. Edmund is a bit of a mad scientist, consumed by constructs that transhumanistically merge mechanics and biological systems for these grand sculptures of form and sound. The quest puts him at odds with his own family, however, and results in his own renewed efforts to help them — perhaps out of guilt. I was a little unclear on that, though.
The result is something along the lines of Alice in Wonderland meets Clive Barker's Hellraiser in a visual spectacle that revives motifs from Rickheit's earlier work, such gasmaskish facial interface devices, adolescent sexual discovery, and intimate relationships with animals that are not necessarily sexual. His storytelling style is a brilliantly paced series of chapters, that leave as much to the imagination between panels as they unveil in his larger scenes of Rube Goldbergian invention and menacing surprise shots that lie between M.C. Escher and H.R. Giger.
There's an ongoing refrain of physical penetrations and external community confrontations that kicks off from the very beginning where Edmund finds himself awakened outside of his house. Most of these events explore major changes in his life brought on by what lies through the given scene's metaphorical rabbit hole, and how that new discovery complicates his life further.
Rickheit's linework is utterly astounding throughout, and his imagery is densely compacted in many circumstances. There's an obsessively completist urge that appears to fuel his pages and balances well with the central character's innocence, though the elegance of the story really resonates in the challenge to that innocence forced by the ending.
I always enjoy revisiting Rickheit not because he makes artwork that's easy to consume, but because he makes visual narratives that issue these kinds of challenges as you get drawn in to his children's quests and motivations. Those who appreciate Max Ernst's work or the cold subjectivity of Ingmar Bergman's The Silence should gravitate handily to Rickheit's style. Actually, some of the dialog in The Squirrel Machine came across eerily similar to the old man at the hotel in The Silence.
This book was well worth the wait, and I was happy to see him get a publisher like Fantagraphics for it, who will hopefully open up his work to a wider audience.