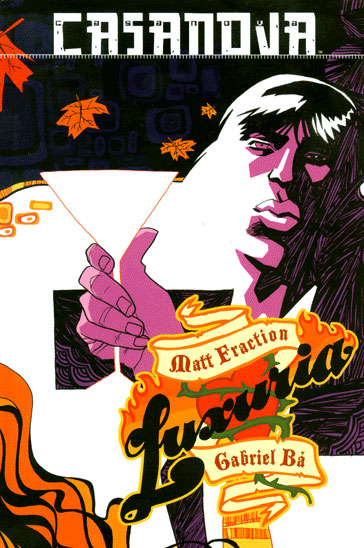 The hardcover collection of Matt Fraction and Gabriel Bá's first Casanova series was a volume that had been sitting on my shelf for long time time since my first go through it. I only picked it up again to re-read this week for an "Adapt This" feature over at MTV's Splash Page blog. It's a book whose single moment surprises and fiercely imaginative character designs got their claws into me the first time through and left an impression, but it really from a second read-through for me before I decided it was my pick for the column.
That's mostly due to the frenetic plot twisting that occurs — sort of like stuffing a couple seasons of Doctor Who or Sliders into one episode. Fraction's rich, rich writing is packed with subtleties and character eccentricities that come out more during repeat readings, but Bá's lavishly articulated sequences are more than enough to yin that yang for first-timers. The layouts, to both of their credits, are also impeccably well laid out and innovative to boot in many cases.
It's kind of funny that I feel like I'm reading a Dark Horse book now, too, since I'm so used to seeing Bá in Umbrella Academy and B.P.R.D. now. Nevertheless, this volume has aged well.