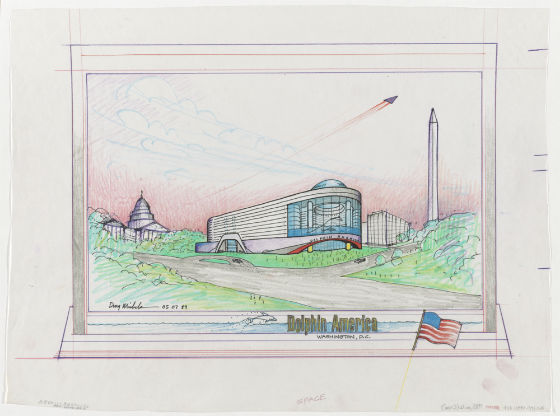 Dolphins and humans coexisting in a single hotel/embassy space together in the nation's capital—why not, right?
If you missed out on the National Building Museum's "Unbuilt Washington" exhibit this year, I don't know what to tell you. It was a personal highlight for me for the first half of 2012.
If you've run into me since I walked through this collection of wonders at the end of May, you probably heard me mention Doug Michels' Dolphin America Hotel, which envisioned a space for humans and dolphins to live and interact with one another.
The official listing from the NBM reads as follows:
Proposed Dolphin America Hotel, designed by Doug Michels Architecture in collaboration with Jim Allegro, AIA, 1989. Architect Doug Michels was fascinated by dolphins and proposed various projects that would bring humans into closer contact with the aquatic mammals.
Just take a look at the design and let that idea sink in for a minute.
Also, what is that in the sky—a B-2 over the Washington Monument? Or a UFO?