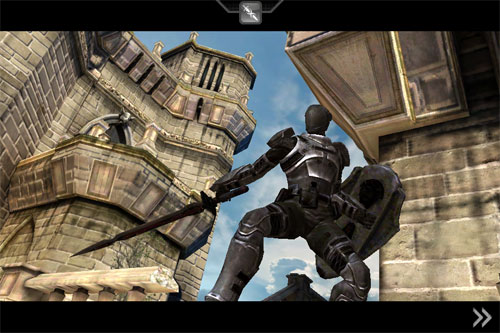 "Infinity Blade" on the iPhone and iPad recently received an update from Chair Entertainment containing multiplayer features and upping its full achievement count to 64. After snagging 54 of those, I noticed the ominous "How'd you do that" achievement sitting unfulfilled at the bottom of the list. A lot of the FAQs and Q&A posts I looked up glazed over a few of the necessary steps to unlocking it, so I decided to write up a public (and spoiler filled) post to help out anyone out there who's still confused about it.
This is how you unlock the Dark X-SC2, Dark Tempest, Dark Halo, Dark Fusion and Dark Omega XOS-7:
1. Restart from Bloodline 1. This was the key point that was holding me up. You need to (a)
go to the main menu from within your current game, (b) select Options, and then (c) select Restart Bloodline 1. (If you simply beat the God King and beging another game+ Bloodline 1 to the nth power, none of the subsequent steps here will work.
2. After you've restarted at Bloodline 1, you should be getting those old familiar tutorial instructions to block with your shield. Merely tap your shield so that your character raises the shield momentarily and then lowers it in time to get hit with the bad knight's sword. Do this over and over again until you die. If you get to the point with you're being told to swing your sword, it's too late, and you will not be able to get to Bloodline -1.
3. After you die, select Save and Restart Castle from the options you're your offered. If you do this, you will be sent into negative Bloodline numbers, you should unlock the "How'd you do that" achievement, and everything else will be a piece of cake because you'll be equipped with all of of these cool weapons.