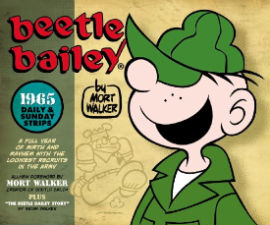 Beetle Bailey eclipsed the 1,000-newspaper mark with its circulation in 1965 and was only the second comic to do so after Blondie. For a year marked by Lyndon B. Johnson's "Great Society" declaration, conflict in Vietnam, and marches in Selma, Alabama, Beetle Bailey: The Daily and Sunday Strips, 1965 from Titan Books presents a artifact from popular entertainment that year that showcases Mort Walker's talent, as well as how he reacted to and reflected what was going on in the world. Titan sent me a review copy of this recent effort, and overall it resisted a passive read-through.
The renewed trends in comic strip archive publishing haven't been lost on me, though beyond The Complete Far Side and The Complete Peanuts, only a few efforts have really captured my interest as a reader. As has been the case with Fantagraphics' Peanuts volumes, however, this Beetle Bailey tome does a tremendous job of presenting its content in context and establishing the comic's place during the glory days of printed strip publication, as well as how Walker rubbed the U.S. military brass the wrong way, earning a ban from the Tokyo Stars and Stripes.
Walker's mastery of shapes and lines really shines through in this volume. Yes, there are countless flat punchlines and moments where you'll find yourself wondering if a line of dialogue was supposed to be a joke or not, but scenes like Beetle discovering Sarge's postcard from Vietnam and Cosmo reading about a possible end to the draft anchor what you're reading in the events of the time. This book is best absorbed as a whole and for experiencing a broad sampling of Walker's visual vocabulary of shorthand illustration techniques — from bubble helmets and facial features, to postures and trees. Even if the comic never really appealed to you, those aspects may still save this book on your pull list for the perspective it offers.