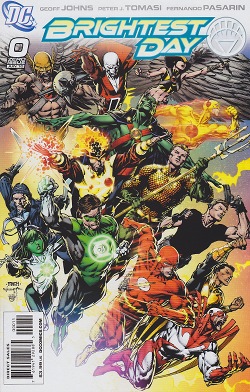 C2E2 week seemed like a good time to end my absence streak from Dark Tower Comics today, and Brightest Day #0 by Geoff Johns, Peter Tomasi, and Fernando Pasarin was a fine note to come back here with. Strangely enough, I did not immediately see this cover and recognize it as a piece of work by David Finch, even if I did catch the pleasant aroma of Peter Steigerwald's colors. Anyway, this was a pretty epic 48-pager, and it's nice when a $3.99 pamphlet comic feels like a value for what's inside these days, so I want to dive into the content.
In the aftermath of Blackest Night, all sorts of characters are back from the dead, and this is a one-issue prologue to what's going on with them going into the Brightest Day storyline. Boston Brand is one of my favorite characters in DC's history, and I never really liked Martian Manhunter's new look prior to his death, so seeing Deadman and J'onn J'onzz's old brow ridge and costume re-re-tooling gave me a positive impression to go in on. The page economy allotted per storyline, the fact that I actually cared about the Hawk characters and the great little Maxwell Lord sequence brought it home.
Meanwhile, there was an extremely heartwarming moment when Guy Gardner presented J'onn with a tanker of Oreo cookies to make me smile and a totally bizarre moment in the Firestorm section with a kid at a party dumping a keg of beer all over a nearly topless girl at a party that had me scratching my head a bit. First off all, that is a reprehensible waste of beer. Second, he's quite strong to be lifting that up and pouring it with any accuracy so effortlessly. And third, I'm a little surprised that got into a DCU comic — though stranger things have happened.
Moving on, Pasarin is an astonishing talent. His figures tend to out looking a little long in the torso — a bit like Michael Turner at times — but the overall strength and variety of his work page-to-page earned my four bucks. Johns' story hit a memorable note with each of the revived heroes and villains, and I dug the seeds that were sewn.
If I've got one hope for Brightest Day coming out of issue #0, though, it's that the Hawk-mythos doesn't overshadow or impede the Boston Brand development. And if someone wants to make a current timeline of exactly what the Hawks' history is at this point, I would not hold a grudge.