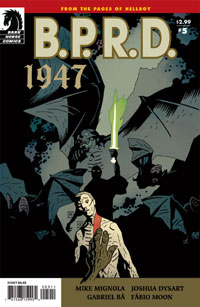 With everything else that happened during the first four issues of this miniseries, specifically the fall of Konig and the vampires, there was plenty of reason to believe this was going to be a lame-duck final issue. Thankfully, that wasn't the case, as there were a few historical moments tucked into the final pages and some potentially interesting continuity seeds that were planted. B.P.R.D.: 1947 #5 was not a climactic ending, however, by any definition, and it lacked a lot of the luster from Moon and Bá that the previous issues packed.
The central event of this issue is the exorcism of Agent Anders, which plays out in a sort of ethereal plane fashion that is a little boring. In fact, I almost had the same "This is it?" reaction that Agent Stegner did when the final conflict subsided.
The highlight of issue #5 really comes in the final pages in the ominous discussion between the Professor and the priest about Hellboy's adoption — which in and of itself isn't any real game changer. I don't want to spoil anything unnecessarily here, but if you didn't read the last four issues, pass on this, and do read the trade when it's out, but on its own this one probably isn't worth the $2.99.