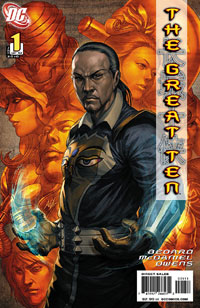 Diving into this issue got me a little misty-eyed for 52, and based on that sentiment alone I was predisposed to liking this new mini. In addition to Tony Bedard being a writer I automatically approach with high expectations, The Great Ten #1 came off my reading stack from last week with several distinct advantages.
These characters come with some of the best all-around new concepts and designs I've seen in any Marvel or DC book in years, and it's good to see them getting some deserved attention. Grant Morrison created them, and now Bedard has been tasked with moving them around and building their histories. His writing carries this first issue. And though Scott McDaniel's artwork served its purpose, it was much more effective during closeup shots than it was for full-body scenes where a few characters just seemed to be all over the place.
The issue kind of beats you over the head with the fact that these characters have histories tied to a timeline of modern China, but at the same time those fish-lens perspectives on Tibet and the Beijing Olympics anchor the larger story with popular points of reference. The story actually tackles some of the more serious issues revolving around China's rise to power. While those plot points make it more relatable, however, the depiction of the Chinese government may run the risk of oversimplifying and making a caricature of the way they operate. Whether or not that turns out to be the case going forward, I'll probably be picking up issue #2.