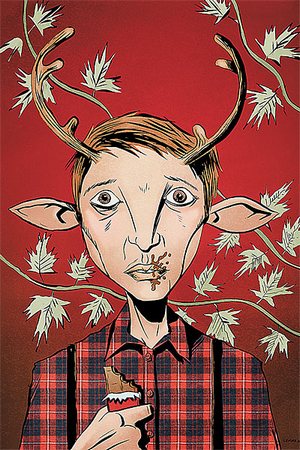 It was a few shades of Faulkner with some Cormac McCarthian isolation and this eerily subdued Tromaville meets Narnia vibe, but I think main reason Jeff Lemire's Sweet Tooth just fit its hooks into me from issue one really came down to its raging amount of mystery and possibility that it uses to hollow out its world, home straight in on its main character — a deer-boy produced by some mysterious accident that affected births for all humans — and lets the horror around him just lurk in the opaque shadows and resonate with the reader's imagination.
Right after I set it down I noticed that my pal Sean T. Collins reviewed Sweet Tooth as well this week, and I agree with him that there is a little bit of a cliché to be kneaded out with the boy's "bumpkin naivete and the hunters' gruff bad-guy-ness are a little too high-pitched to maintain that delicate quietness Lemire's striving for." Sean's got a way with words.
Lemire's got the skills though. There's a hint of Gummo in his family culture that could probably be cultivated more, that would pull him away from the flimsier, less believable Guthrie family feeling that I think Sean called "Claremontian" when it came to his dialect. It is one of the weaker points in the book, but overall this was a refreshing read.
For a buck, you really couldn't have found a more unique launch on the racks this week, and I'm always excited to see Vertigo stabbing outward into new territory instead of trying new books that feel like their old books. The splotchy and econonomically regulated amounts of blood and chocolate splashed around the wood and mud really synthesized an effective look for the story, too.