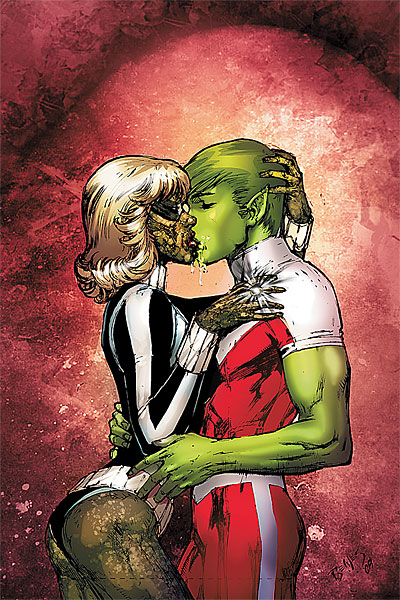 The "Blackest Night" event at DC right now has been a long time coming. I've heard at least two writers from Marvel and DC books mention similar concepts in the past, but Geoff Johns finally got his epic march-of-the-dead-heroes book through to the shelves. I picked this spin-off miniseries opener up once, put it back, and then slipped it back into my stack for good before taking it to the register. I love the bigger story about Black Lantern rings wrenching zombie-hero/villains from their graves, but I've never been an enthusiastic Titans reader — and big crossover spin-offs make me wince. The "Countdown" spin-offs nearly cured my curiosity for good, in fact.
While I haven't read a lot of J.T. Krul's books previously, Ed Benes' artwork hit an alluring note for me when I browsed through this issue on the rack. Having a little invested in the Tara/Beast Boy relationship as a reader, I gave it a chance. The "Blackest Night" premise, meanwhile, had me automatically baited to see who would die at the end.
Benes' work looks more like Jim Lee every time I see it, and it's to the point now that it's almost scary. The story, meanwhile, was heavy with plot-driven, over-explanation dialog and light on character feeling, but I didn't really expect more anyway. It did what it needed to and it hit the right beats with the action sequences taking the spotlight. The artwork's good for anyone, but it's so heavy with continuity, I don't know that the standalone value of this issue is very high.