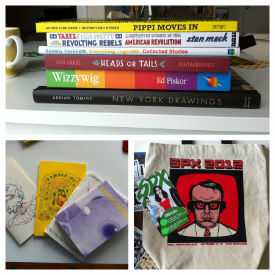 I'm pretty sure today marked my fourth visit to the Small Press Expo in Bethesda, Md. I'm about 95-percent certain on that count, but don't hold me to it. It was piles of fun, I brought home piles of comics, and I saw a few legends of the medium.
The first of those was Daniel Clowes, and I didn't get to see him speak. Fortunately, I did drop by two supremely memorable panels—the first of which featured Françoise Mouly speaking about her history in publishing, and the second of which featured Gilbert Hernandez in conversation with Sean T. Collins. Given that Sean is one of the best read and most insightful Love and Rockets readers around, this turned out to be a highlight of the show, especially when a fan chimed in at the end to ask Gilbert how he feels about the band Love and Rockets.
I also flipped through loads of great new books and brought a few home. I miss my minicomics hook-ups in Chicago dearly, so SPX provided a great chance to grab some indie/alternative works and make up for lost reading time since my move out to D.C. What you see here is a sampling of that haul, so as you can imagine I plan to run a few reviews here in the coming days.
In fact, expect to see a few thoughts on Renee French's "Bjornstrand" shortly.