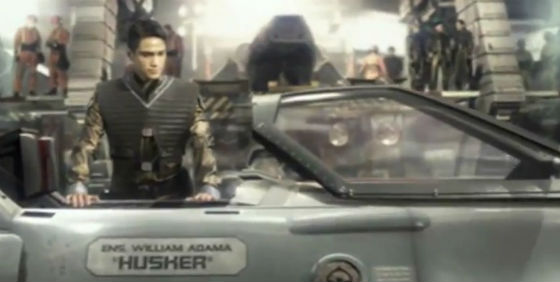 Entertainment
• Syfy debuted their trailer for "Blood and Chrome," the new "Battlestar Galactica" prequel project, which may be a Web series or a pilot/TV movie. My first impression from this trailer is that it's all action and "Immigrant Song," so I worry that they're trying to overcompensate for "Caprica" ditching outer-space dogfights for character development and just turning "Blood and Chrome" into a low-budget, Michael Bay-styled, run-of-the-mill, direct-to-Syfy movie. "Blood and Chrome" looks like an adrenaline-charged Syfy original project, which isn't the same thing as saying it looks like a good BSG spin-off. I'll reserve judgment until Adama starts talking. (via io9)
• Producer Steven Moffet dropped some bombshell "Doctor Who" announcements, revealing that actress Jenna-Louise Coleman will be Matt Smith's new companion and join the show's cast in this year's Christmas special. The Christmas special will be the sixth of six episodes released in 2012. The fifth one will be Amy and Rory's last and feature the Weeping Angels, according to a Moffet quote on the DW Twitter account.
News/Media
• The New York Times recently announced that they're closing the iris a bit for unpaid readers from 20 to 10 articles per month. Meanwhile, as of Q1 2012, they have upped their digital subscription count to 454,000. This was interesting to me, since Steve Jobs touched on these numbers in the Walter Isaacson bio that I recently finished. Jobs thought the The NYT could charge $5/month and net about 10 million subscribers. Right now, they're charging way more than that and reaching far fewer digital subscribers. Nevertheless, Ryan Chittum has a great post up at The Audit where he notes the paper's success and predicts they will pass the 500,000 mark before October. He also points out the big question on everyone's minds, which is quite simply, "When will digital revenue start appearing on the company's quarterly earnings reports?" (via Journalism.org)
Tech
• The Wall Street Journal took a look at the iPad 3's data usage over LTE networks. Download speeds may be 10 times faster, but $30 a month for 2 or 3 gigabytes can go fast when you're using that Retina Display screen. I think everyone can see the writing on the wall, as content access costs are increasing and Verizon and AT&T are the ones getting the cash. (via Brian Stelter)
• Wallpaper images, meanwhile, only need to be downloaded once, and Cult of Mac shared some gorgeous iPad-ready mosaics from graphic design artist Stephen C. Page. I put one on my throwback first-gen iPad. (via Russ Frushtick)
Science
• This video from Nature about a camera that uses scattered photon detection to see through walls and around corners may blow your mind a little bit.