Microsoft's newly closed acquisition of Activision Blizzard isn't just the software giant's biggest deal ever. At a cost of $68.7 billion, it's also the most expensive video game industry acquisition of all time. After the companies first announced their intent in January 2022, regulators, including the Federal Trade Commission (FTC) in the U.S., the European Union, and the Competitions and Markets Authority (CMA) in the U.K., each raised questions, casting doubt on the acquisition's fate. In the end, however, concerns were addressed, allowing the deal to close on Oct. 13.
So what made this worth fighting for at such a price for Microsoft? The answer lies in the current state of the video game landscape, as well as a forward-looking view into cloud gaming and subscriptions. Microsoft currently counts 25 million subscribers on its Game Pass offering, which, according to Michael Pachter, a longtime analyst at Wedbush Securities, needs to get to 100 million in order to be profitable.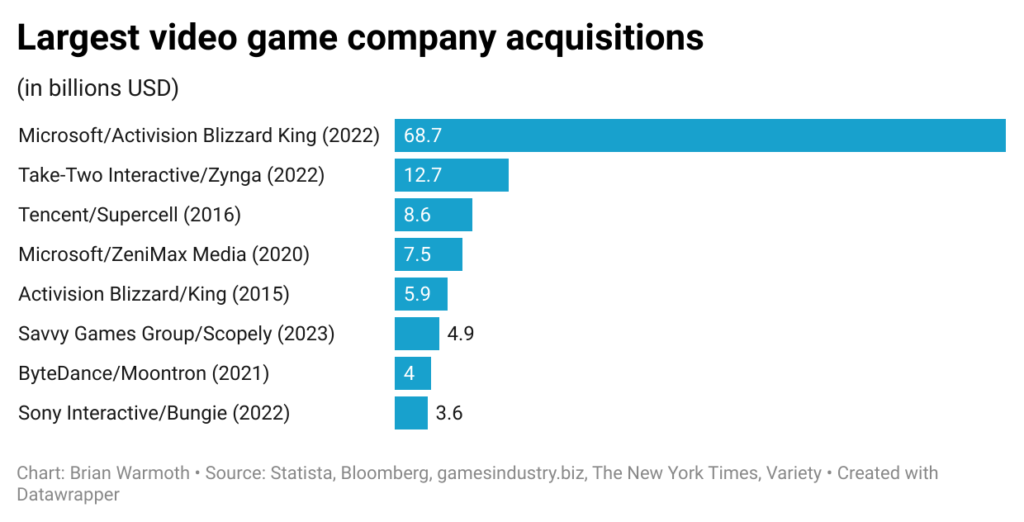 "At 25 million subscribers, they're losing money, but at 100 million, they're probably making money; at 200 million, they're making a lot of money," Pachter said in The New York Times coverage.
Top-tier games and the franchises that accompany them, such as Call of Duty, Starcraft, and Diablo, can likely boost those numbers significantly, giving Microsoft an edge. Meanwhile, Activision's King, which it acquired in 2015, can fuel Microsoft's mobile gaming reach with its own stable, most famous for Candy Crush.
Microsoft's Xbox Series S and Series X consoles currently trail behind the Nintendo Switch and Sony PlayStation 5 in unit sales, and Microsoft no doubt wants to pull ahead. In order to get the acquisition through, Microsoft had to make peace with ensuring that Call of Duty would remain on Sony's systems. Blizzard titles Diablo IV and Overwatch 2, meanwhile, have each found their way to Steam, breaking out of Blizzard's traditionally tightly controlled PC availability. Wider availability will mean more opportunities to grow sales at the expense of exclusivity, but it seems clear that streaming-style subscription availability is the win that Microsoft prioritized.
So, will this expensive bet pay off? Early signs may be visible in Game Pass subscriber numbers, but Microsoft is positioning itself for a new era where cloud gaming has wider adoption and competitors such as Amazon and Nvidia are already trying to figure out how to claim space.
Featured image for this post generated using Midjourney