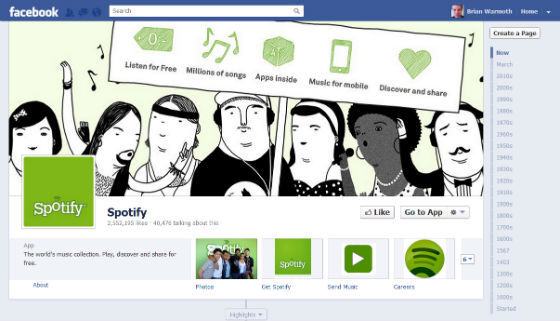 News/Media
• The New York Times did a laudable job assembling this interactive piece on the Trayvon Martin shooting.
• Do you want to see how to take Facebook's Timeline feature and use it to your media company's advantage? Look no further than Spotify's page. It's one giant historical rundown of landmark music events, complete with clickable links to play tracks in Spotify.
Entertainment
• "Game of Thrones" returned to HBO last night for its second season, and I'm currently just over one book ahead of where the story is at right now. Stannis (played by Stephen Dillane) seemed understated, and Melisandre (Carice van Houten) bore a much closer resemblance to Celine Dion than I'd pictured while reading A Clash of Kings. Nevertheless, "The North Remembers" really nailed the drama and essence of its scenes one at a time and at the right pace. Meanwhile, I recommend checking out the commentary of a couple of old colleagues of mine, Josh and Sean, over at MTV.com. Sean is also covering the new season for Rolling Stone (and I'm in the same boat as he is in regards to the baby killing).
• Ashton Kutcher has reportedly been cast as Steve Jobs. I just recently completed Walter Isaacson's Steve Jobs bio, so this choice took a few minutes to play out in my head. I can definitely see Kutcher capturing Jobs' more manic moments. However, I'm just having a tough time envisioning how he'll deliver some of the more condescending scenes that are going to have to be a part of the story.
Tech
• The "Girls Around Me" app is one of the creepiest things I've ever heard of, but if you're into innovative API use, it's definitely a case study (on use and user policies) worth being aware.
Science
• My new favorite acronym is BOSS (Baryon Oscillation Spectroscopic Survey), and think you'll agree that it certainly is when you see what kind of cosmic measurements it's taking. I'm pretty much all for most things that involve better understandings of dark energy.
• If you like bite-sized Men's Health-style advice and spunky insights, I recommend checking out my friend Patty Hastings' new blog at YogaYumYes.com. She's full of practical suggestions for nutrition and yoga novices such as myself.