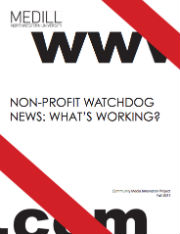 I feel obligated to mention on here that my group at Medill is in the final weeks of our client-based project looking at non-profit news companies and making recommendations accordingly to The Chicago Reporter. Part of that has involved a great deal of research that has been summarized in a white paper we unveiled last week. So definitely have a look at "Non-Profit Watchdog News: What's Working?" if that's the kind of thing that interests you.
The information contained in there addresses revenue, publishing and audience engagement issues that everyone in the news industry faces, but we came out on the other end of our conversations, reading and number-crunching with a list of goals and strategies that can lead to sustainable news operations.
In a couple of weeks, we'll be making our final presentation, which I'll also post a link to, as soon as it's live.