I'm doing the smart thing this year and waiting for peak tourism to subside before seeing the cherry blossoms, even if it means missing peak bloom. We did hit the National Arboretum for the first time last week, though. Blooming flowers were scare, though the Korean azaleas were out – and the old sandstone Corinthian columns that used to be part of the U.S. Capitol (until 1958) were impressive.
Other things in my line of sight that didn't include the Basin cherry blossoms have included the following:
The new Daredevil series on Netflix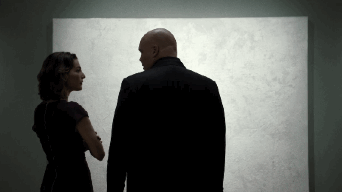 This is one of the best casting jobs on a Marvel production yet. And I don't just say that because people keep messaging me to tell me they think the guy playing Foggy Nelson looks like me. It's heavy on violence – much heavier that Agents of S.H.I.E.L.D. on ABC ever will be, for instance. But it nails the Hell's Kitchen of the comics. And I wouldn't be sad to see Vincent D'Onofrio's Wilson Fisk (show above) become a fixture within the Marvel Cinematic Universe.
The world of Metro
D.C.'s entering a brave new world on Monday with Metro reintroducing automated trains to the Red Line. That news came on the heels of word that plans to only run eight-car trains by 2020 area getting scaled back. Though Metro anticipates 84,000 new daily weekday trips by that year, which means capacity shouldn't be ignored.
DC Comics closed up shop in NYC
I hope the move to California is good for everyone who followed DC's offices out of Manhattan. But the city is going to be a different place now. And I echo Marvel's sentiments.
@DCComics pic.twitter.com/7oi7MFYWvG

— Marvel Entertainment (@Marvel) April 10, 2015
Book critic Salman Rushdie
Maybe the best story I read this week was about Salman Rushdie's three-star review of To Kill a Mockingbird on Goodreads. Hey, at least he's being honest about how he feels. More online reviews should reflect that level of candor.
Google wants Android Wear to communicate with iPhones
If this Verge report is true, it could be one of the best developments in recent years for mobile and wearable devices. Apple making iTunes available to Windows computers changed the game – even if the software eventually became a bloated jungle (a "toxic hellstew," even). As was the case for Microsoft and Apple before, Apple letting Google release that app will be good for both companies (and consumers) in the long run. Here's hoping Apple does the right thing.